My daughter is basically a carbon copy of my husband. Extroverted, full of energy, and loves to explore, travel, and do new things. While we've made the most of this summer at home with a newborn, I can tell my daughter is getting antsy around the house.
Everyday she asks where we're going, who we're going to see, and what we're going to do. (forget a quiet day at home) when we told her we're going on a "trip" she instantly got her backpack, packed her clothes, and wanted to leave immediately.
I'm more of a home body and the idea of traveling with a toddler and a newborn isn't very appealing to me. But I knew that traveling, despite it's inconveniences, and the amount of energy it takes, would be a good thing for our family. Here are three things I believe we benefit from when traveling with a preschooler.
Traveling Grows Patience.
I'll be the first to admit that traveling can be exhausting, and believe me when I say we've had our fair share of bad traveling experiences. The preparation, keeping kids happy in the car, getting out of a routine etc. all requires extra patience on everyones part, especially mine.
But I've also seen how it's grown patience in my daughter. She used to hate her carseat but after three years of numerous trips, she's become a much more content traveler. She sings songs, plays games, and entertains herself extremely well. I don't believe she would've developed this skill this early if we hadn't taken so many trips.
2. Traveling Expands Their Knowledge of the World
We recently took a mini trip to Chattanooga, TN, for a wedding and a mini trip. Even just going somewhere close expanded Ellie's knowledge and view of the world. She learned what hiking is, she tried new foods, and swam in a water hole.
She also loves the mountains that we saw and climbed. Any parent knows that it's so fun to experience things through the eyes of their child because they see things in new and exciting ways. We love taking our daughter on mini trips because she gets to interact with all kinds of different people. She also learns that the world doesn't revolve around her.
3. Traveling Makes Our Family Grow Closer
There's nothing like getting lost on an uphill hike with a toddler and a newborn to bring you closer together as a family.
While we were hiking we were looking for a waterhole to swim in. And even though we followed the trail sign, it was the wrong trail. My husband had our three year old on his back and I'm carrying our newborn in a wrap and we're walking straight up a hill of rocks. After about 15 minutes and both of us being soaked through with sweat, I asked if we could go back. My husband humbly admitted he made a mistake and we headed back to the beginning of the trail.
Traveling together as a family doesn't just make you closer through shared experiences, it also allows our children to see how we work through conflict, mistakes, and accidents.
Even though our daughter is just preschool age, we highly value learning and education. I was also homeschooled growing up so I'm so excited be a part of this giveaway!
GIVEAWAY
A new homeschool year is right around the corner!
Many homeschool moms are busy preparing and finalizing curriculum choices for the upcoming school year. And some homeschoolers are trucking on through the summer months as one school year flows into the next. Whatever camp you are in, you're bound to need new homeschool curriculum, and winning a gift card to a major online homeschool retailer would surely help you check some things off of your curriculum wish list. I'm teaming up with some other great homeschool bloggers to bring you a
HUGE gift card giveaway to Rainbow Resource Center
. We will be blessing
TWO
homeschool families with a $250 for you to use on curriculum, books, games, puzzles, or whatever educational supplies you might need! We know homeschooling can put a financial strain on families - whether it's from living on one-income or buying curriculum for multiple children - the financial aspect of it can be stressful. Our hope is that we can bless a couple of homeschool families (although we wish we could bless many more) so they can buy the curriculum and supplies they need.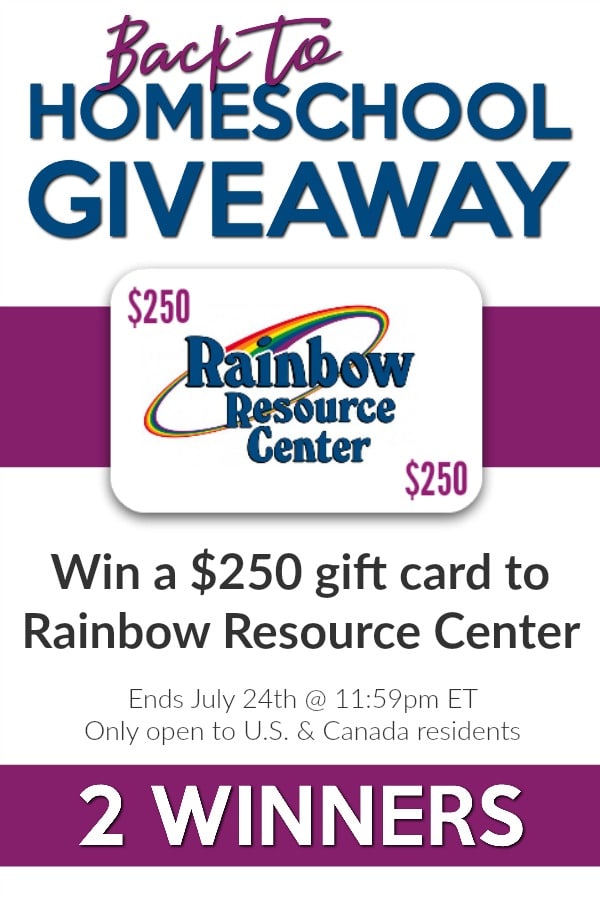 To enter for your chance to win, simply use the Rafflecopter form below to enter. Now I know that is quite a few entries for you, but each of these bloggers has generously chipped in their own money to make this giveaway possible, so I hope you will take the time to do all of the entries. And hey, the more entries you do, the better your odds are of winning!
Giveaway ends July 24, 2019 at 11:59pm ET. Must be at least 18 years of age. Must be a resident of U.S. or Canada to enter. Selected winners will have 48 hours to respond to email notification to claim their prizes or another winner will be drawn. By entering this giveaway, you agree to be added to the email lists of the participating bloggers (see the Terms & Conditions on the Rafflecopter form for the complete list).
a Rafflecopter giveaway